Music
Maryfield Choir Sings at the Song of Docklands
Maryfield College Choir had an amazing night at the Bord Gais Theatre as part of Sing A Song of Docklands. Thanks to Dublin City Council, Creative Ireland and Sing Ireland for the unforgettable experience! Well done to all the girls, they sang beautifully.
Trad Group Performing in Ard Scoil Rís
6th Year Trip to National Concert Hall
The 6th Year Music students enjoyed their trip to the National Concert Hall this Tuesday to see the National Symphony Orchestra's performance of Tchaikovsky's Romeo and Juliet. They loved experiencing their Set Work live!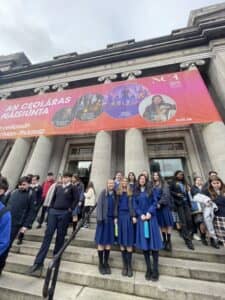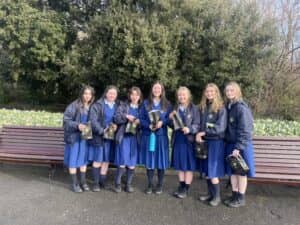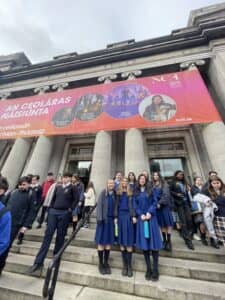 Christmas Musical Evening
The Music Department and Parents Association held a Christmas Musical Evening last Monday night. Thank you to all the students who took part! You are magic!

School Choir Performing at Open Night 2022
Musical Evening for the 1st and 2nd Year Parents
On the 17th of May, the Music Department and Parents Association hosted a Musical Evening for the 1st and 2nd Year Parents. It was a fabulous evening with music from the Junior Choir, Full Choir, 6th Year Chamber Choir, Trad Group and 3rd Year Ai Lin Sun

IIMusicSong
The choir and music students had a great day out at the @IIMusicSong today in Balbriggan, here we all are standing in the worlds largest guitar 🎸🎶🎤🎼
International Women's Day
Ms Cooney and the school choir sang "A Woman's Heart" for International Women's Day. Click on the link to watch it.
A Woman's Heart International Women's Day.MOV
Lunchtime Music Recitals
A series of lunchtime recitals has been taking place this March featuring the Junior Certificate and Leaving Certificate music students who are currently preparing for their practical exams. These recitals provide the performers with a platform to perform while also giving quality entertainment to their fellow-students. We wish all our music students the very best in their upcoming exams.
---
Mulled Wine and Mince Pie Evening 2017
The annual Mulled Wine and Mince Pie Evening for parents of First Year students took place on Wednesday 22nd November. The evening began with a concert which showcased the wonderful musical talent of Maryfield students from a variety of year groups. The school choir, vocal ensembles, instrumentalists and solo singers treated the audience to a varied and entertaining programme. The First Years of course stole the show with both choral and solo performances. The evening concluded with a reception hosted by the Parents' Association. A very enjoyable evening was had by all.