Here is a photo montage of the TY Barista workshop with Dublin Barista School.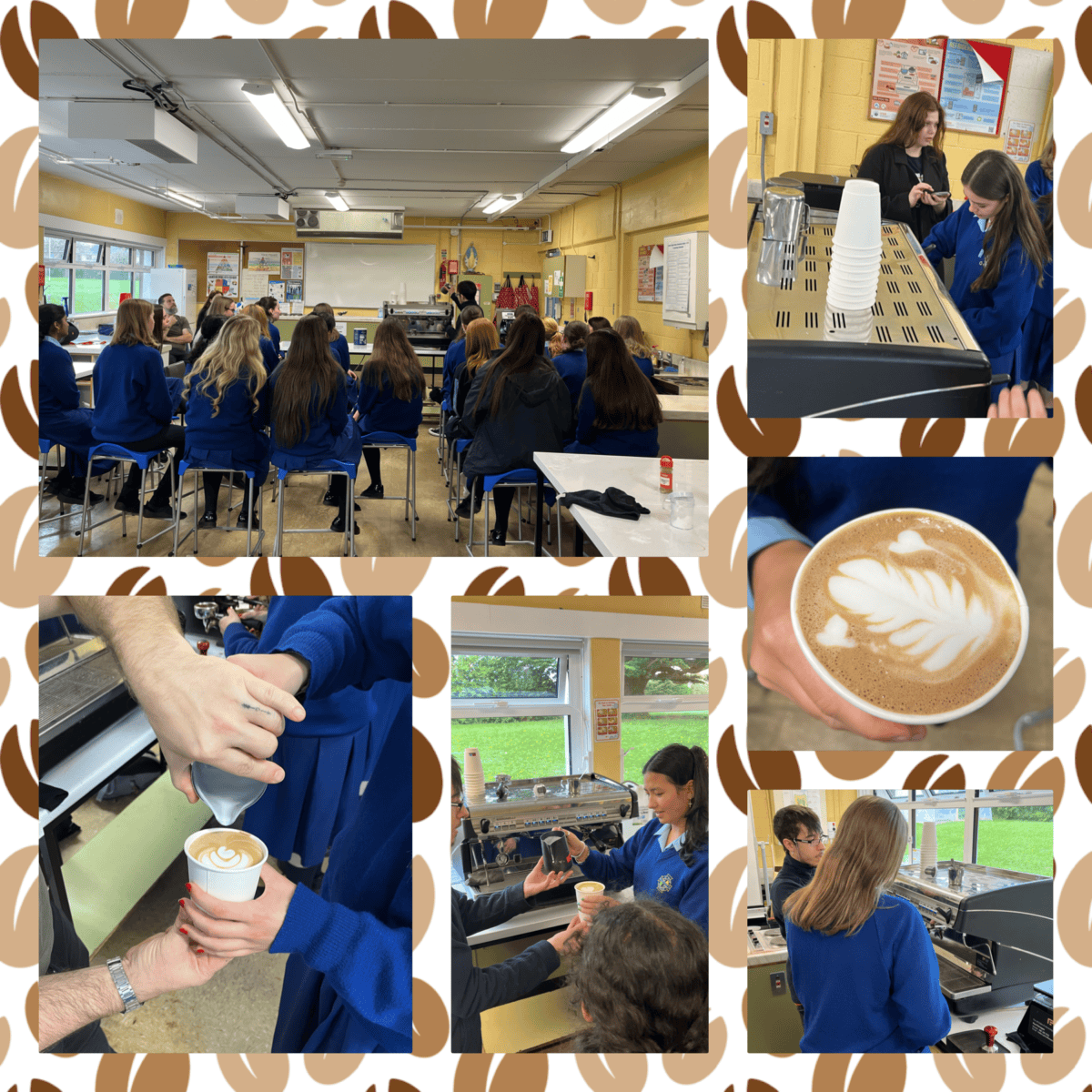 TY Graduation 2023 
Congratulations to our TY Class of 2023 and Ms Ryan, Ms Clancy, Ms Cooney, Ms O'Toole, Ms O'Mahoney and Ms McLoughlin for a wonderful end of year celebration. Thank you to all parents who attended the presentation this afternoon.
Maryfield College wins an award in the National YSI competition for the third year in a row!
Maryfield College won the award for 'Making our country more inclusive and poverty free' in this year's Young Social Innovators competition, following on similar success in 2021 and 2022!
 In class  4K discussed the issue of homophobia and realised that homophobic bullying begins at a very young age. They realised that books for children tend to start with traditional families of a mum, dad and two children. In order to introduce acceptance of  inclusive and diversity, they have written and illustrated a children's book, called "I've Lost my Family, Can You Help Me?"
In this book Pedro the parrot gets lost and tries to find  his way home. He gets help along the way from all kinds of animals and families- a family with two lioness mums, a little hedgehog who's is minding a baby bear, a rabbit family with mum and dad, and so on. The gorgeous illustrations by Ema T , add vibrant colour and light up the rhyming story aimed at younger children. well done to 4 K and Ms. McLoughlin!
TY Pupils Reach Final of YSI Now Competition
4K are National finalists in the YSI Now competition, and their published book has just arrived in time! Well done, girls and Ms McLoughlin!
TY Pupils Reach Final Of Reloved Fashion Competition
Two of the transition year students reached the final of the relove fashion competition on Thursday in Ballymum. 
Here are some pictures of the two students Sarah Elders and Isabelle Graham with their outfit that they made from recycled jeans. 
The final had 22 finalist out of 200 entries from all schools all over Ireland.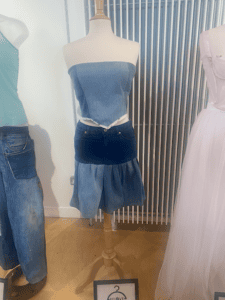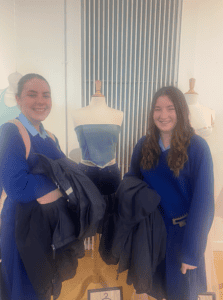 TY Japanese Class Visit Japanese Restaurant
The TY Japanese class went to a local Japanese restaurant today to try a bento box to finish off the module. They all enjoyed it very much. Well done to Ms Mika McLoughlin.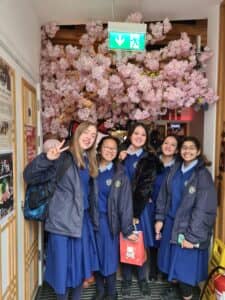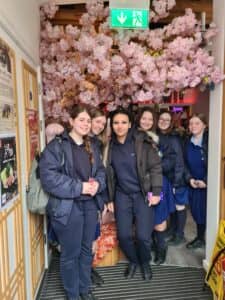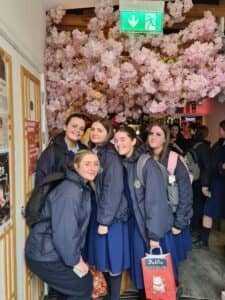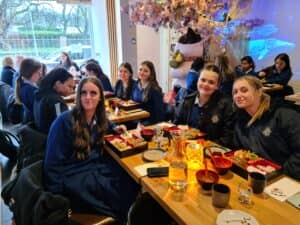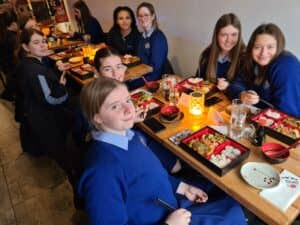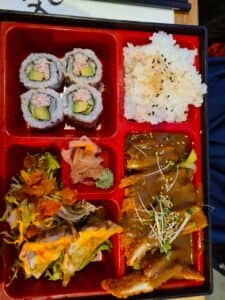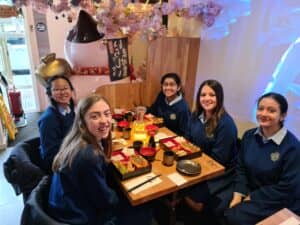 TY Musical- High School Musical
TY complete CPR 4 Schools Progamme
Transition year students completed the CPR 4 Schools programme from the Irish Heart Foundation.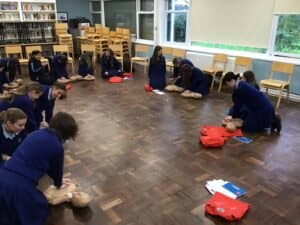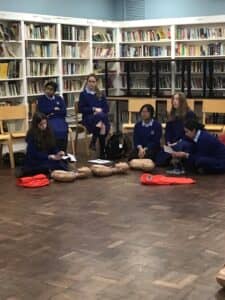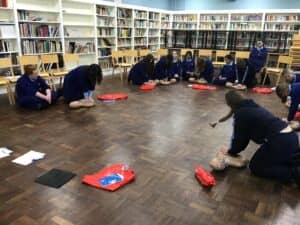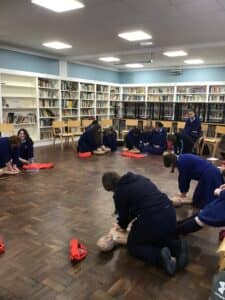 TY Art Workshop- No Place Like Gnome
Here's some photos of the 4th yrs. with the gnomes they made in a craft workshop run by Ms Mahoney and Ms McLoughlin. Well done everyone!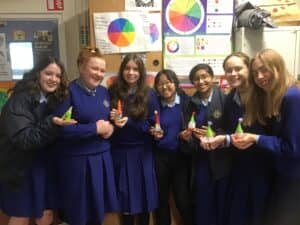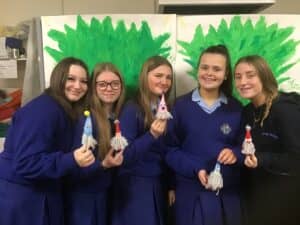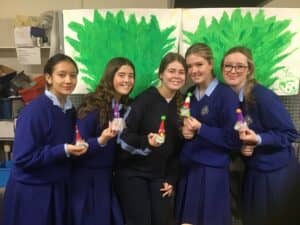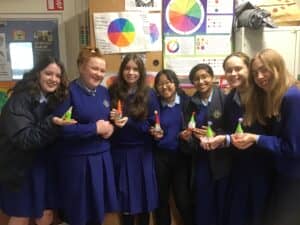 TY Japanese Class Visit to Senbazuru
– The TY Japanese Class enjoyed a visit to Senbazuru Japanese Restaurant in Fairview with their teacher Ms O Loughlin yesterday.  They all enjoyed their Bento Lunch and using their newly learned Japanese greetings.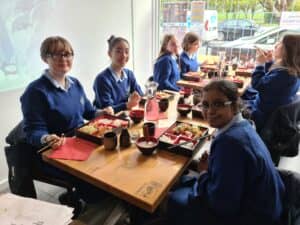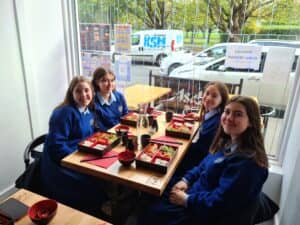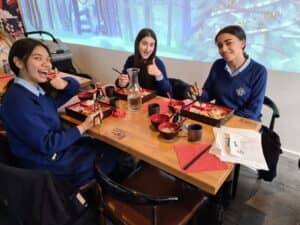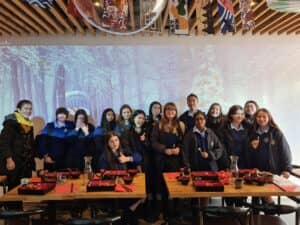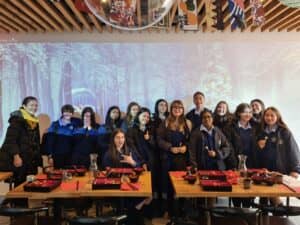 TY Pupils Create Lesson Plan
As part of their Community Action programme with Ms Mahoney & Ms McLoughlin, the girls were asked
to create & present an original lesson plan that would be suitable for junior/ senior infant primary school pupils. They had great fun !

TY Trip to Russborough House
The TYs travelled to Russborough House in Wicklow last Thursday where they participated in Archery, Zip-lining, High Ropes, Bushcraft and Rock Climbing. They then canoed across the Liffey Reservoir to their campsite, and braved the elements as they camped outside. A great time was had by all, where they learned to work as a team and bond with their year group! Many thanks to their teachers Mr. Dempsey, Mr. Devlin, Ms. Keating and Ms. Cooney for travelling with them!

TY Trip to the Botanic Sculpture in Context 2022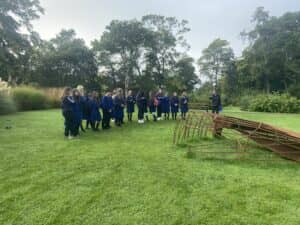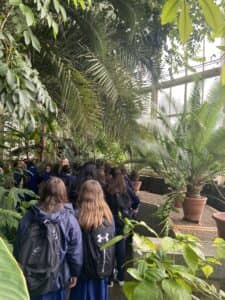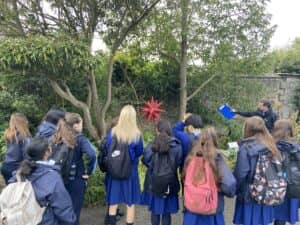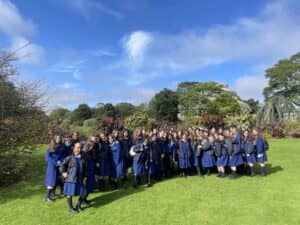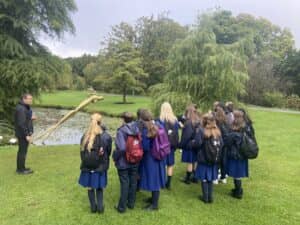 4th Year Physics Design Investigation
Here is a few images from the 4th Year Physics Design Investigation, building tall, stable towers.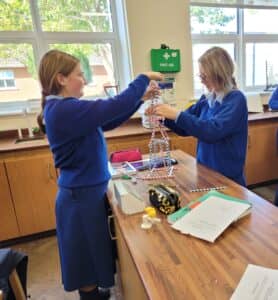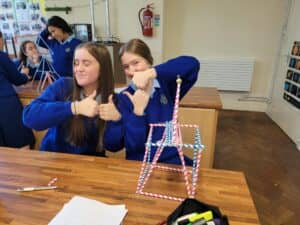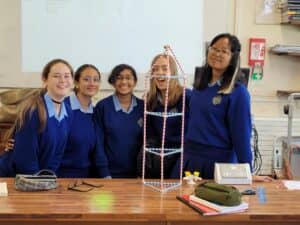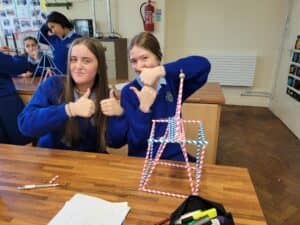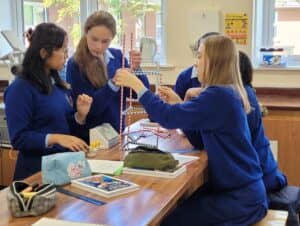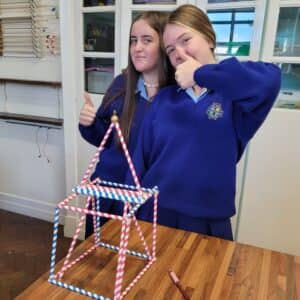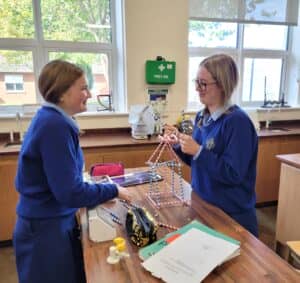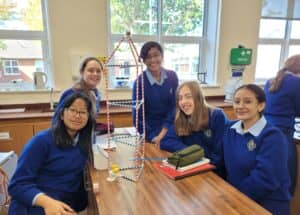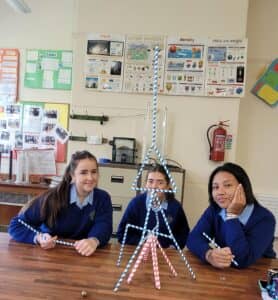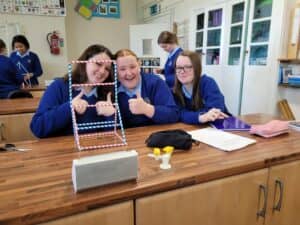 TY 2022 End of Year Presentation 23rd May
This afternoon we celebrated the end of the current Transition Year by bringing the TY students together with their Year Head Ms McAuley, TY Co-ordinator Ms Ryan and their Form Tutors Ms Cooney, Ms Mahoney and Ms O'Toole and the Principal and Deputy Principal also to look back on all of the wonderful achievements of the year group and to celebrate their collective and individual successes.  We were also very pleased to have with us a representative from Young Social Innovators YSI to present the students with their pins for participation and the winning class 4L with their award for their #whowearsthetrousers campaign.
This afternoon students shared their experience of their participation in European Youth Parliament, An Gaisce, & Relove Fashion Project,  and Ms McAuley and Ms Ryan praised the students for their participation in all TY activities and opportunities with a particular focus on how this years group of TY's reached out to their local community and those in need of help the most through the Christmas Care Package Initiative and charity fundraisers for Breast Cancer Ireland.  During the afternoon we enjoyed watching montages of both video and photo that reminded the students of all of their achievements and time spent together this year forging new friendships, learning new skills and participating in new experiences. Students all received their individual Transition Year completion certificates and a range of other subject and workshop certs also.
Please take a look through some photos and videos from this afternoons presentation.
We wish all our TY students a lovely Summer and look forward to welcoming them back to school at the end of August as 5th Years.
Ms Carroll
TY Pupils Raise €422 for St Francis Hospice
Congratulations to the Transition Year students that raised a fantastic €422 in aid of St. Francis Hospice from their Spring Memorial Walk. Many thanks to everyone that supported us and donated to this worthy cause.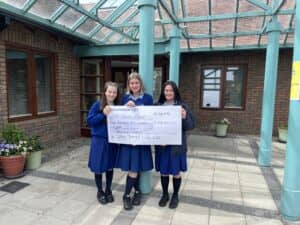 Japanese Culture and Language Trip
Class 4R Japanese Culture and Language Trip to Senbazuru Fairview to have a traditional Japanese Bento Box Lunch.  Thanks to our PPLI Japanese Teacher  Ms O Loughlin
Green Schools
As part of the Green Schools module, the students in 4R organised a litter pick of the local area surrounding the school. We collected three large bags of litter:  including face masks, sandwich wrappers, plastic bottles, crisp packets and socks!  Many members of the community thanked us for helping to keep our area clean. Well done to all involved!
TY Trip To Belfast
Some photos of the TY trip to Belfast. They had a great day out at the Titanic Museum and enjoyed the Open-Top Bus Tour! They were very lucky with the weather.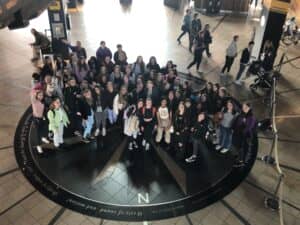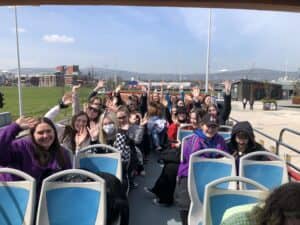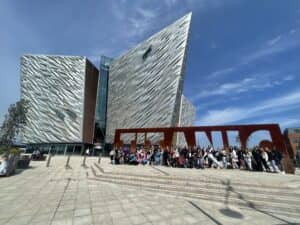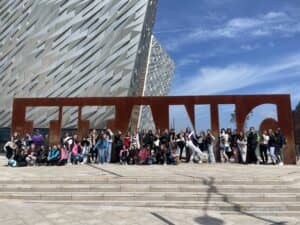 TY Pupils Chosen To Represent Ireland
Massive congratulations to Cara Grange, Laura Marmion and Elaine Murphy-Transition Year students who were chosen to represent Ireland at the national finals of European Youth Parliament in Cork.  They are pictured with past pupil-Gabriele Rimkute (EYP) who helped to organize the event.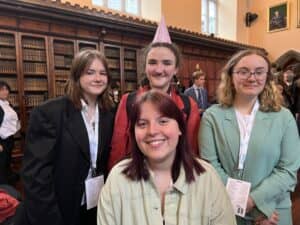 Who Wears The Trousers Campaign
Check out our TY pupils and Ms McLoughlin representing Maryfield in the media, while discussing their campaign about school uniforms.
https://www.virginmediatelevision.ie/player/show/809/194835/0/School-Uniform-Choice-Campaign
https://www.newstalk.com/news/dublin-school-starts-campaign-for-girls-to-have-trouser-uniform-option-1319135?utm_source=whatsapp&utm_campaign=article&utm_medium=web
Maryfield Pupils Participate in European Youth Parliament
Congratulations to Elaine Murphy and Cara Grange-Transition Year students who participated in the Dublin Regional Session for the European Youth Parliament in UCD from 25-27th March. The event was organized by Gabriele Rimkute-a past pupil of Maryfield. Well done!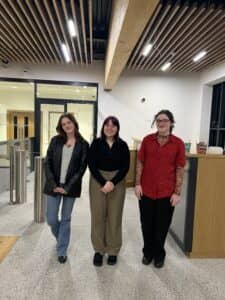 Relove Fashion Champion!
Elaine Murphy of 4L won ' Best casual outfit' at the Relove fashion grand final 2022 today.  The project was based on making a sustainable, wearable outfit. Her outfit displayed great creativity and skill. Well done to all students who entered the competition.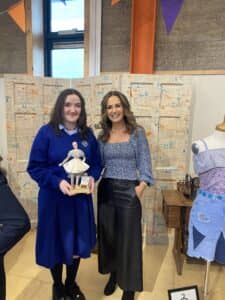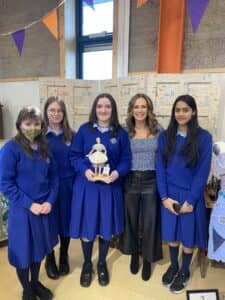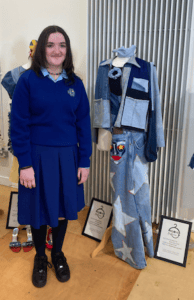 Who Wears The Trousers? TY YSI Campaign.
8/3/'22
MsMcLoughlin with students Meabh and Anita from 4L on Ireland AM this morning promoting their YSI project #whowearsthetrousers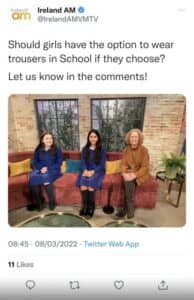 7/3/'22
Our TY YSI pupils have made the news today! They've launched a campaign for more choice in the school uniform.
They also discussed it on Newstalk's Lunchtime Live.
'Cold… discriminatory': Students campaign to end skirt-only uniform policies (irishtimes.com)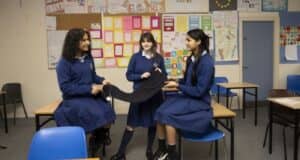 TY History Trip to Croke Park and GAA Museum
Organised by Ms Townshend and Mr McQuillan on the 17th December, 2021.
TY Care Package Initiative
This year the Transition year students took part in the Care Pack initiative during November and December. The aim is to spread joy and goodwill towards senior citizens who are residents in a care facility in Ireland. Many of these residents, have had limited visits from family and friends during this time, so when we heard of the opportunity to get involved and make a difference, we couldn't wait!
55 students from our year volunteered to participate in the project. On completion of our application, we received a list of residents currently residing in local nursing homes within the Drumcondra and Glasnevin area. We wanted to support the residents by wrapping them in a blanket of kindness andwhile they may have to isolate away safely during the pandemic, they most certainly are in our thoughts. We sent letters, cards, gifts, handcrafted items, and treats. All parcels were individually wrapped, packed, and posted. Each package is a unique representation of how we are keeping our senior citizens in our thoughts and prayers over the festive season.
Many thanks to Ms. McAuley for supporting us on this project and well done to all Ty students on thewhat has been a great success– great team work!
Ava Cleary, Megan Savage, Sarah Preston & Louise Hennessey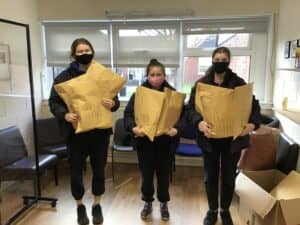 ---
Transition year students in Carlingford Adventure centre
Our Transition Years spent two action-packed days at Carlingford Adventure Centre, making new friends and enjoying a wide variety of sports and activities. Despite the early morning starts the students enthusiastically participated in zip lining, laser tag, hiking and many water sports. A wonderful time was had by all.
---
Legally Blonde Musical
View our Legally Blonde Musical gallery here
---
Work Experience: Concern Worldwide

This week Abby, Holly and I undertook work experience at the Concern offices. It was a totally different experience to anything we had done before.
We were first introduced to the other participating students from all over Ireland. We had the opportunity to hear about the work that Concern do and listened to talks given by people working in a variety of areas such as fundraising, emergencies, social media, journalism, gender equality and malnutrition. We also learned about Concern's work overseas in the global south and we got the opportunity to Skype with one of the workers in Malawi and ask her questions about her work and life there.
It was amazing for me to see how much thought and effort Concern put in to how they spend their money and how they can improve the lives of people living in the global south.  I was very pleased to learn that our money is spent so well and would like to learn more about the work of Concern. In the future I would love to work for an organisation such as Concern because I could really see the difference it makes.  I am delighted that we had the opportunity to study Development Education in Transition Year and learn more about global issues.
Thank you to all the staff at Concern!
Sabrina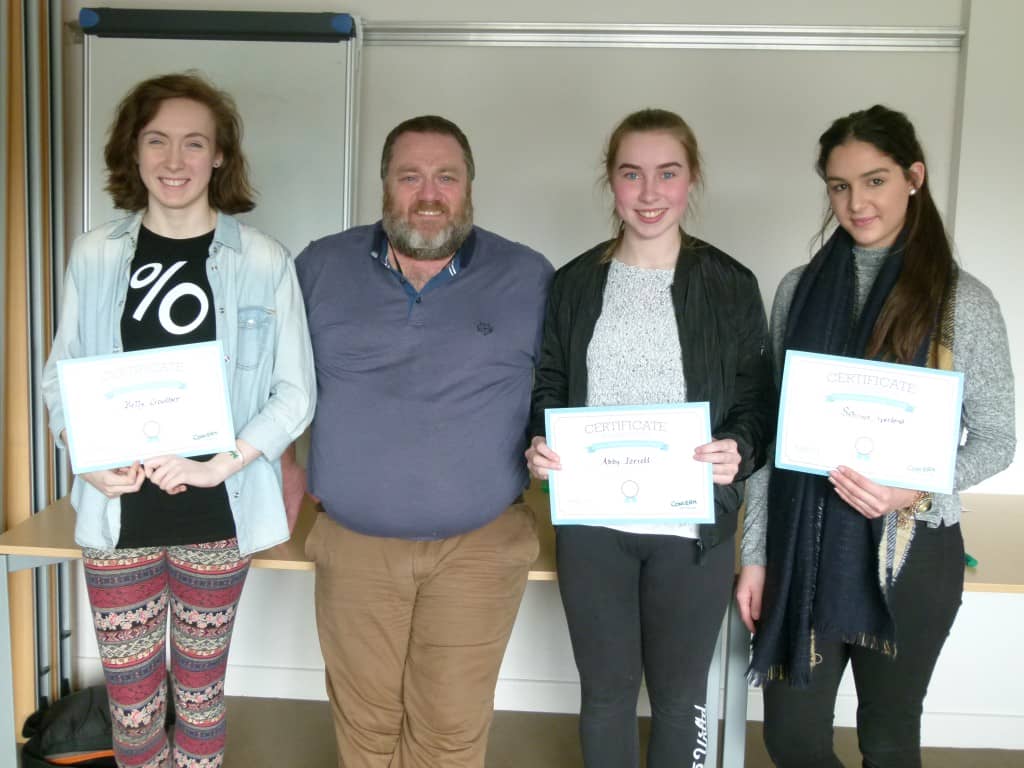 Show You Care at Christmas
On Thursday the 8th of December, the Transition Year students along with the RE Department held a Christmas event in aid of Traidcraft. The assembly hall in Maryfield was transformed into a wonderful Christmas market for the entire school community to enjoy. Students and teachers could buy some beautiful Fair Trade craft gifts for their loved ones, or have a coffee or hot chocolate in the café area. They purchased cakes, had their faces painted, bought raffle tickets and sang along with the Transition Years who entertained them with Christmas songs.
Traidcraft is the leading UK fair trade organisation, dedicated to fighting poverty through trade. All the products sold are ethically and environmentally produced by farmers and artisans in many countries throughout the developing world. Fair trade means that the price we pay for products ensures fair remuneration for producers. They can then afford life's essentials such as food, education and healthcare.
Traidcraft is founded on Christian principles. It seeks to live out the Christian faith through its mission to fight poverty through trade. It is both a Trading Company and a Development Charity. Traidcraft helps poor producers to work their way out of poverty. By developing their skills and their knowledge, Traidcraft helps them achieve their God-given potential. It is a simple and effective way to respond to Jesus' command for us to love God and serve the world.
The Transition Year students hosted an amazing event and raised a grand total of €4,010 for their efforts. They would like to thank all staff and students who supported the event. A special thank you also to the following teachers – Ms. McAuley, Ms. Kelegan, Ms. Mellon and Ms. Seery for all their work on this project.
---
Tráth na gCeist
Chuir grúpa scoláire ón idirbhliain tráth na gceist ar siúl sa halla ar an 25 Samhain. Chum na scoláirí seo na ceisteanna go léir, rinne siad taispeántas deas PowerPoint agus ghlaoigh siad amach na ceisteanna go líofa. Bhain gach duine an-taitneamh as an ócaid agus tá moladh mór tuillte ag na scoláirí iontacha a chuir an tráth na gceist seo ar siúl.
---
Creative Writing Workshop
Transition Year students attended a creative writing workshop on Monday 21st November in Fighting Words Creative Writing Centre. The group had a chance to compose a story as a group and individually, and worked with a team of volunteer writers to develop their writing style. Thanks to all at Fighting Words for a wonderful afternoon!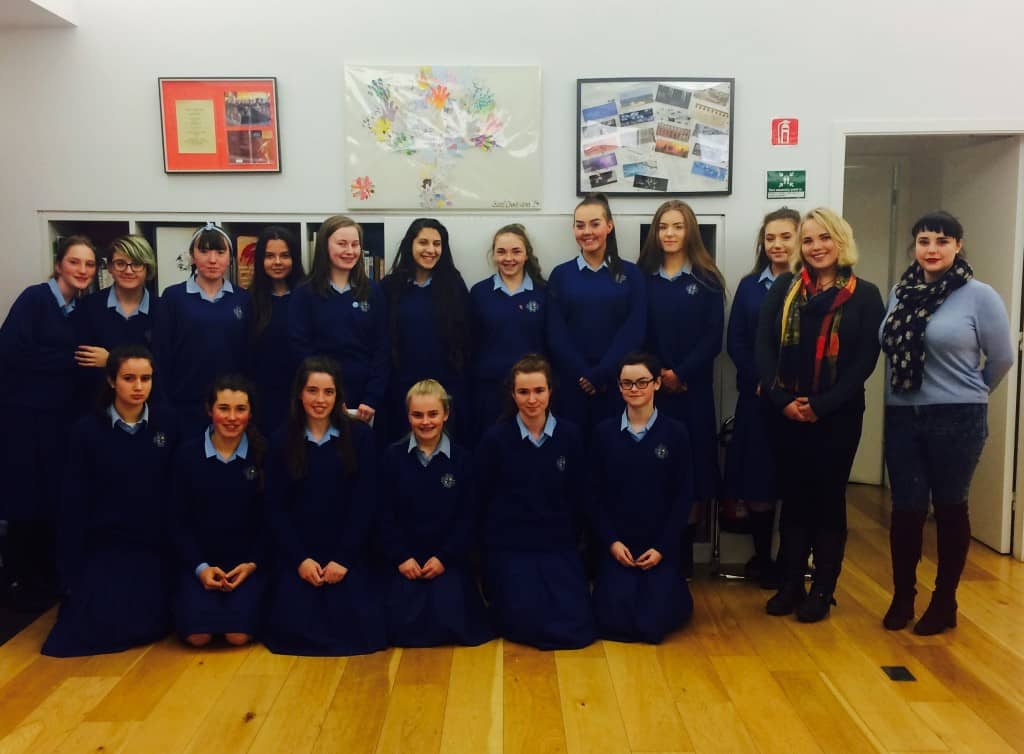 ---
Transition Year Activities and Outings
TY Activities
Zeminar
Transition Year students paid a visit to the 'Zeminar' event which took place recently in the RDS. 'Zeminar' is a new social enterprise which brings together the various partners involved in the wellbeing of young people and examines the issues surrounding their academic and personal development. The event consisted of a variety of stands representing organisations and activities that promote positive mental health. The highlight of the day was a presentation given by Bressie. He connected well with his audience by speaking honestly and openly about his own life-experiences and sharing his story about dealing with very real issues such as anxiety and depression.
Drama and Dance Workshop
From the 6th to the 9th of September Transition Year students attended a very enjoyable dance and drama workshop. This workshop is always an excellent start to TY with students making new friendships and connections in an extremely sociable environment. The students learned a number of dance routines and acted out excerpts from a selection of musicals. The students really looked forward to attending the workshop each day and used up plenty of energy while having fun.
Outdoor Pursuits in Carlingford
The Transition Year trip to Carlingford Adventure Centre was once more a resounding success. The school classroom of Maryfield was replaced by the great outdoors of the shores of Carlingford Lough, Maryfield students making this transition seamlessly. Students participated in activities and challenges that many had never before encountered. Decided favourites were kayaking and zip-lining. The overnight trip consolidated old friendships and built new bonds for the year ahead.
Contributed by clas