One Good School
One Good School Peer Educators Graduate
Our One Good School Peer Educators graduated today! They taught our pupils about mental health and wellbeing. Well done to Emily and Sabrina!
Wellbeing Week- Day 5 "Rainbow Friday"
Today is Rainbow Friday! Our One Good School team invited Ollie Bell, a guest speaker from Shout Out, an LGBT+ charity. We sold rainbow pins to raise money for Shout Out also. A Find the Flag scavenger hunt completed the activities.
A massive congratulations and thank you to everyone on the One Good School team for all your hard work and achievements this week. You've really lifted the mood and made a positive difference.
Wellbeing Week- Day 4 "Anti-Bullying Thursday"
Today is "Anti-Bullying Thursday", Day 4 of Wellbeing Week. Our pupils were delivered a presentation about our school's policy about bullying. A quiz competition completed the events.
Wellbeing Week- Day 3 "Give"
It's day 3 of Wellbeing Week and we had a bake sale at lunchtime. No money was involved though; our currency is kindness! We gave out cakes and treats in exchange for positive messages written on paper lovehearts! 
Wellbeing Week- Day 2 "Be Active"
Maryfield's top runners were out bright and early this morning for the Maryfield Mile, part of our Wellbeing Week programme.
Our whole school did a Drop Everything and Move activity as part of Be Active Tuesday, an integral part of Wellbeing Week.
A Just Dance event was also part of the fun and games for Be Active Tuesday.
A lot of fun was had by everyone!
Wellbeing Week- Day 1 "Take Notice"
We were visited today by a representative of Jigsaw, the youth mental health organisation. Emeir talked to our pupils about Jigsaw and mental health in general. The girls then listed what they're grateful for on our gratitude noticeboard.
Wellbeing Week
Breathing Exercise
Parents' Webinar About Friendship
We're delighted to announce that Jigsaw is offering a Friendship webinar for parents. It's on Tuesday, the 14th of March at 7.30.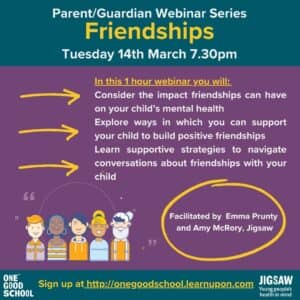 Peer Education
This week, two of our fifth years are delivering classes to their peers about mental health and wellbeing. It is part of Jigsaw's One Good School programme. Well done, Sabrina and Emily!
Ways to help young people who are struggling with their mental health
By Naomi Lungu, Jay Muteba, Juliet Murphy and Zoe Lenehan.

One Good School Assembly, Croke Park
Mr Smith, parent Patricia Mulligan and pupils, Sarah O'Rourke and Kayleighann Burgess attended the One Good School Assembly in Croke Park on October 19th. It was an event to celebrate the good work that has been done so far by the participating schools.
The event was organised by Jigsaw, who provide help for young people from the ages of 12 to 25.
Former Irish President, Mary McAleese, was a guest speaker, she spoke about the influence one good adult can have on a student.
https://twitter.com/JigsawYMH/status/1582672319192834048?s=20&t=8uYGmzh6RS3BQPlw0qepMw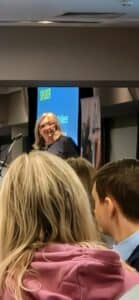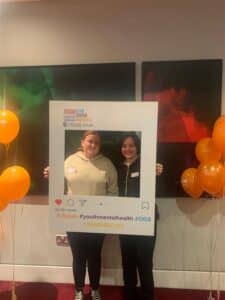 One Good School- CLANG
CLANG is Jigsaw's campaign to help us all learn about and look after our own mental health and wellbeing. From Monday, 10 to Friday, 14 October, we're asking you to join us in doing five simple actions proven to help with your mental health and wellbeing.
Connect
Keep Learning
Be active
Take notice
Give back in support of Jigsaw
Ways to connect
Connect over lunch, featuring special treats brought in by the students or free pizza.
Digital detox day, where students and staff don't use their phones for a whole school day. There's nothing like removing devices from your day to promote connecting with those around you.
A screening. Use a room with a projector in and screen a film or game. A love of sport and film can bring people together like nothing else!
Ways to keep learning
Presentation in school, college, or the student union by one of the organisers, explaining the Five a Day for Mental Health and its benefits.
Webinar or completion of online course. See what courses we have available on jigsaw.ie
Learn a new skill. Research a skill such as knot tying, cooking a particular meal, origami, etc. Then teach this new skill to each other!
Ways to be active
Organised run, walk, or hike. Does exactly what it says on the tin. Pick a nice location locally or further afield and go for a run, walk or hike there.
Interschool or intercollege sports game. What about students versus teachers or lecturers or a match against another school/college/society?
Board game evening. So why not organise an evening where people can bring in their favourites?
Ways to take notice 
Guided meditation There are lots of great guided meditation resources online. Have a look on YouTube and see if anything would suit your group.
Nature walk around the school or college grounds. Are you near a nice park or located out in the countryside? Why not find a nice spot and go for a relaxing walk as a group?
Litter pick up around the local area. There are few things more relaxing than taking a stroll and cleaning up your local area.
Ways to give back in support of Jigsaw
Bake sale. Get a few talented bakers together, make some cakes and treats, and sell them. There's nothing like a home baked brownie to put a smile on someone's face.
Non uniform day/costume day. Let everyone express themselves through their own choice of clothing in exchange for a modest donation. A classic!
Sponsored run, walk, or hike. Keep things simple, pick a challenging location for a run, walk or hike and get sponsored by friends and family.
Charity night out, gig or concert. Pick a venue, pick a form of entertainment to offer, and charge for tickets. Maybe throw in a raffle and there you have it!
One Good School- Webinar for Staff
One Good School Actions for this Year
This year, as part of the Jigsaw's One Good School programme, we will engage in several activities, including Innovate for Wellbeing, Peer Education, My Mental Health- What Works, Exam Stress and Managing Anxiety in the Classroom.
One Good School Self Assessment
As part of Maryfield's One Good School initiative, we are carrying out a self-assessment of what our school community believes to be our needs when it comes to promoting and supporting youth mental health. This is an essential step as it will help us to create an action plan for next year, based on the programmes and workshops that Jigsaw can offer. We may also host focus groups for further elaboration on this area.
Please click on the relevant link:
Parents:
https://forms.office.com/r/N5df4Rhqu1
Staff:
https://forms.office.com/r/qBPJNVxiKt
Pupils:
One Good School Online Course For Teachers
Check out this artwork by Aoife Peelo Smyth of second year, a member of our OGS team.