One Good School
One Good School Self Assessment
As part of Maryfield's One Good School initiative, we are carrying out a self-assessment of what our school community believes to be our needs when it comes to promoting and supporting youth mental health. This is an essential step as it will help us to create an action plan for next year, based on the programmes and workshops that Jigsaw can offer. We may also host focus groups for further elaboration on this area.
Please click on the relevant link:
Parents:
https://forms.office.com/r/N5df4Rhqu1
Staff:
https://forms.office.com/r/qBPJNVxiKt
Pupils:
One Good School Online Course For Teachers
Staff can find out more about Jigsaw and reflect on their important 
role in promoting and supporting youth mental health. 
​
It will help them to identify practical strategies that they can use to 

support the mental health and wellbeing of young people in their role.

You will need to create a

LearnUpon

 account and can complete the 

course in their own time.

 After completing this course, they will have the opportunity to sign up 

for a follow up support webinar

.
Check out this artwork by Aoife Peelo Smyth of second year, a member of our OGS team.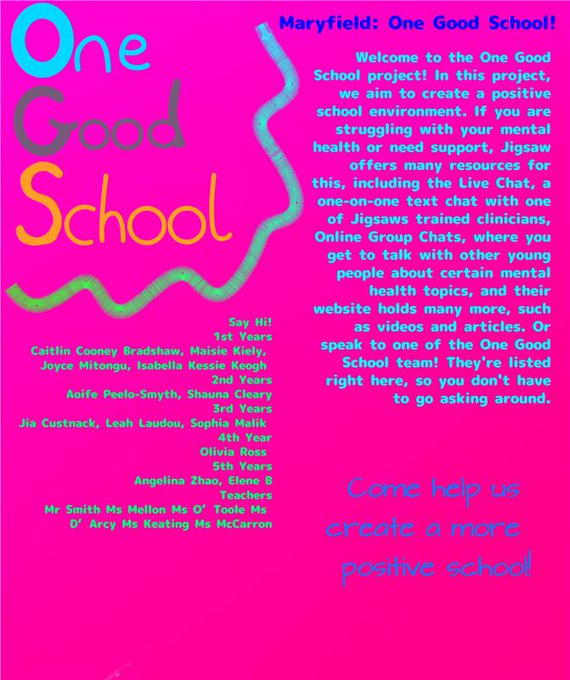 Jigsaw is delighted to host a

one-hour clinician-led 

webinar

 for school staff in their One Good Schools, on the topic of young people and anxiety

. This 

webinar

 will support school staff to understand the nature of anxiety as well as learn some practical approaches to supporting a young person who may be experiencing anxiety.
This will be on Thursday, March 10th at 7.30pm